I was born in St. Albans in the days when it was a market town surrounded by farmland. I lived with my father, mother and sister in a little terraced house near the Abbey, not far from the River Ver and the remains of Roman Verulamium. Parts of the Roman walls can still be seen today but the ancient city is buried under mature woods of beech and oak. Among the trees were little dells and hollows where a boy could hide, the banks of the River Ver and the woods were my playground. I was conscious that the past although buried, was all around, and I absorbed a sense of history without really being aware of it.




---



Early Years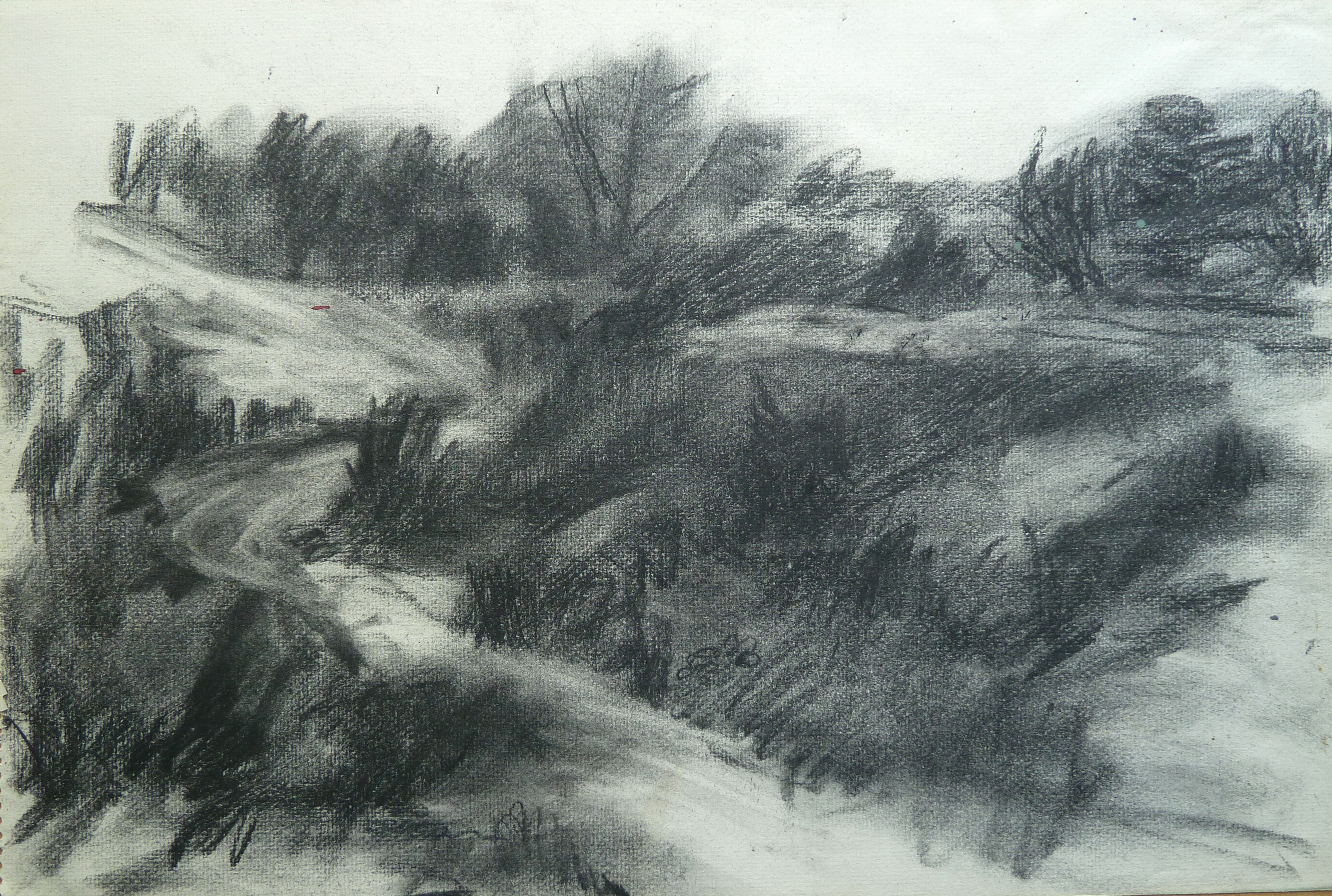 At the age of eleven the family moved from St Albans to a village in a rural part of Hertfordshire. In the 1950's life in the Hertfordshire countryside had hardly changed for generations. Farming was at the centre of rural life and the sleepy villages were self-contained communities. In our village there were a blacksmith, a shoe-mender, six pubs, two grocers, a butcher, an ironmonger's shop where you could buy nails and paraffin and there was even a draper. In Betty's little shop you could buy knitting wool and sweets, which she weighed out from large jars into little paper bags. There were few cars, most people travelled by bus and there was a branch line which connected with trains to London.

I used to walk for hours through fields and woods and along the banks of a little river. In doing so I formed a deep, emotional attachment to the English countryside. It followed naturally that my first drawings and paintings were of the landscape around me. Constable was the painter I most admired, his passion and evident love of the countryside was something I understood and could identify with. No paintings have survived from that time, but I still have some drawings. Charcoal was my preferred medium then, with charcoal I found I could rapidly capture the emotions that I felt in the landscape and put them down on paper.

---
Art School
In 1960, at the age of 16, I enrolled at Hornsey Art School in North London to study painting. The branch line train which stopped in the village enabled me to travel to London each day, a journey which took a good two hours there and two hours back. The return journey could be idyllic, on summer evenings the train passed by fields, meadows and through green tunnels of trees where leaves brushed against the carriage windows and cows could be seen paddling in the little river next to the line. At the end of the day I left London with a sense of relief, happy to be back in the country where I continued to walk, draw and paint.

When my art school studies came to an end I had to find work. I found a job teaching part-time and lived in a rented room in North London. I returned to my parents' house in the village as often as I could but I was not able to spend as much time there as before and gradually life in the city made its presence felt in my work, figures in interiors began to take the place of landscapes.
---
Italy
In 1967 I was awarded an Italian Government Scholarship which enabled me to live and work in Milan for a year.

I was struck by the quality of the light in Italy, so different from the light of northern Europe, I felt as if I was becoming aware of light for the first time.

I took a studio near the city centre, in Corso Garibaldi. I worked there and travelled as much as I could to explore the country. I visited Venice and the islands, I went to Pisa and visited Florence and I went several times to Siena with its beautiful Campo. There I admired the paintings of the Lorenzetti brothers and the visionary painter Giovanni di Paulo. The sense of space and proportion in Italian architecture, made a deep impression, especially the Romanesque and early Renaissance.

A short distance by train from Milan are the great lakes, Como, Garda and Maggiore, peaceful and serene among the mountains. I used to buy some bread, cheese and olives and spend half a day by the lakes to escape from the bustle of the city.

The scholarship was paid in instalments each month when I presented my credentials at the bank. A disadvantage of this arrangement was that I could only travel on relatively short journeys before I had to return to Milan for more funds. Many years later when I was earning some money I returned to Italy was able to travel further afield and explore the places I had missed. I travelled to Rome, Naples, the Greek temples at Paestum, the Aeolian Islands including the active volcano on Stromboli, and anywhere else that looked interesting.
---
Exhibitions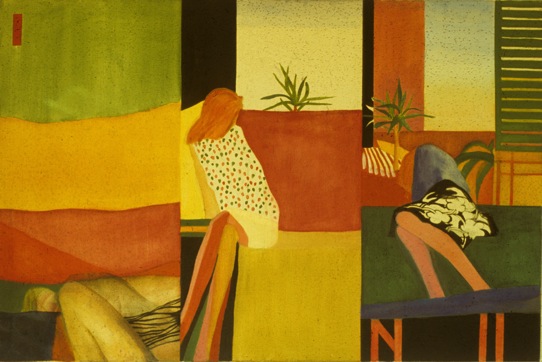 My first exhibition in Milan was at the bookshop gallery of the publisher Einaudi and consisted mainly of etchings, drawings and some paintings.

During that first year in Milan I met some Italian artists who quickly became good friends, in particular the painter Pierluigi Lavagnino who introduced me to Signor Fumagalli, the Director of the Galleria Delle Ore, a gallery well known and much respected throughout Italy, although now sadly closed. I first exhibited at the gallery in 1984, the exhibition was well received and reviewed in the national press. Two more exhibitions followed in 1987 and 1990. I contributed to group exhibitions in the gallery in 1985, 1986, 1991 and 1993.

Today lives and works in North London, has made regular journeys to Italy during the last 20 years.In 2011 the first of a number of trips exploring the art and culture of Japan.
---
Selected Exhibitions:

Wolfson College, Oxford. 1977
Gonville and Caius College, Cambridge .1977
Seven Dials Gallery in Covent Garden, group exhibition organised by Julian Bell, 1978.
Libri Einaudi, Milan, 1979 and 1982.
Galleria delle Ore, Milan, 1984,1987,1990. 1993.
Joined Errol Street Studio, a printmaking studio established by artists including
Tim Mara and Chris Plowman. Made etchings and studio exhibition, 1980
Open Exhibition, Demarco Gallery, Edinburgh 1993.
Sarah Guinan Associates, 1995
RA Summer Exhibition 1996
Jill George Gallery in association with Sarah Guinan Associates. 1998
Lauderdale House, exhibition organised by Sarah Guinan Associates 2006
'Old Contemporaries' at the Islington Arts Factory, exhibition organised by the artist John N Pearce, 2011.


---